MSRP: $22.75
Adjustable elastic camera strap fits most SLR and midsize cameras and secures comfortably around the wrist
Offers increased mobility for easy access to all controls in any shooting position
Streamlined configuration allows quick access to get in and out of strap
Comfortably fits both regular and smaller hands
See how it can be used with any quick-release plate with a strap connection area (quick-release plate not included)
Fully compatible with most OP/TECH USA neck straps, wrist straps and harnesses
The Gimme Grip Strap™ is ideal for the photographer who wants the stability of a hand strap with freedom of movement!
Product Description
OP/TECH USA's Gimme Grip Strap™ is the accessory that active photographers have been waiting for. As many photographers are using quick-release plates to go from a handheld position to tripod shooting in an instant, the Gimme Grip Strap™ is an ideal solution. It uses a Uni-Loop Connector to attach easily to many brands of quick-release plates that offer a strap connection area. If the camera itself has an extra attachment area located on the grip, then a quick-release plate is not needed at all to attach the lower part of the Gimme Grip Strap™.
The Gimme Grip Strap™ also attaches to the normal strap attachment area on the upper part of the camera to give added stability. For this attachment area we offer two options: regular fit (Uni-Loop Connector) and tight/short fit (Special attachment system) for smaller hands. Both options are fully compatible with most OP/TECH USA neck straps, wrist straps and harnesses! This versatility gives photographers the freedom to switch to their preferred shooting setup in just seconds.
The Gimme Grip Strap™ has a 3-position adjustable elastic wrist strap that offers a secure grip without compromising the ability to easily access all camera and view screen controls or shooting positions. Its comfortable fit and design offers the assurance against dropping expensive gear without the feeling of being chained to it!
Details
| | Gimme Grip Strap™ |
| --- | --- |
| Carry Style | Hand |
| # of Connection Points | Two |
| Connection Type | Base plate and Uni-Loop™ |
| Quick Disconnects | Yes |
| Strap Length | Adjustable 12"–16" (including Uni-Loop™) (30,4cm - 40,6cm) |
| Pad Dimensions | 8.25" x 2" (folded) (20,9cm x 5cm) |
| Materials | Elastic strap with non-marring snaps |
| Made in the USA | Yes |
Stock Numbers
| Stock # | Style | Color | MSRP |
| --- | --- | --- | --- |
| 6701262 | Gimme Grip Strap™ | Black | $22.75 |
Instructions
Download Gimme Grip Strap™ Instructions
---


The Gimme Grip Strap™ consists of the following components:
A) An elastic wrist strap, B) Two (2) Uni-Loop™ Connectors, C) a leather tab, screw and post, D) a male quick disconnect, and E) an Adapt-It™ Connector.
Please note that not all hardware will be used for all applications.
---
There are two options for attaching to the upper right camera connection area:
Option 1: Standard fit [Uses 1 Uni-Loop (B)]
1. Thread Uni-Loop™ through connection point on camera.

2. Thread quick disconnect through opening of Uni-Loop™ Connector.

3. Pull quick disconnect to tighten knot.
Option 2: Tighter fit or for Smaller Hands [Uses Parts (C & D) or (C, D & E) in lieu of the upper Uni-Loop™ Connector]
1. Slip the Adapt-It™ connector (E) through the camera's strap lug. If your camera has a split ring connector (ie. Nikon) you will not need the Adapt-It™.

2. Slip the leather tab (C) through the slot on the quick disconnect and fold it in half to align the two holes.

3. Locate the post through the leather tab and Adapt-It Connector or split ring.

4. Using two screwdrivers, drive the screw into the post. There will be some resistance. This is what keeps the screw from coming unfastened unexpectedly.
There are two options for attaching to the lower connector:
Option 1. Attach the 2nd Uni-Loop™ Connector (B) to a base plate (not included) which features a connection area.

Option 2. For cameras with a third connection area located on the lower grip, use the Uni-Loop™ Connector.
---
Attaching the main Gimme Grip Strap™
Attach the elastic strap (A) to the Uni-Loop Connectors. The female quick disconnect which is attached directly to the elastic goes to the top of the camera.

The female quick disconnect attached directly to the leather tab goes to the bottom of the camera.

Slip the elastic strap over your wrist.

There are three snap positions available to customize the fit.
---
Additional options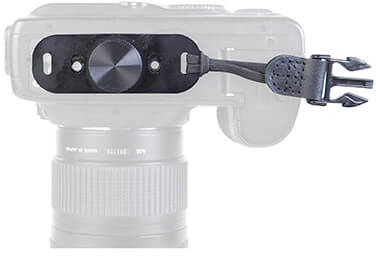 Questions & Answers
No questions have been asked regarding this product.
---
Buy from
Factory-direct shipping is available in the USA only.
It's always best to support your local dealer.
We understand that this may not always be an option due to location; therefore, we're always happy to take your factory-direct order. We ship throughout the USA only. (Please note: we no longer ship to Canada.) For shipments to other countries please locate one of our International Distributors.